Update on 28 July 2018: I can confirm that the hinge connecting the strap to the bag still squeaks when the bag is not secured tightly against your body. Tightening the strap somewhat alleviates the noise. Wedding or event photographers will want to stay away from this bag. I'm still keeping it because I don't really care about noise on my commute.

I've been using Version 1 of the Peak Design Everyday Messenger (EDM) bag for over two years now. It's always been one of my heavily used bags. Not just as a camera bag, but as an everyday work bag too.
Needless to say, I rushed to order one when I heard that they were releasing a Version 2 of the product.
Versus Everyday Messenger V1 – Worth an upgrade?
Yes, it's totally worth the upgrade for me. A couple of reasons why:
It has a luggage handle passthrough – one of my biggest pet peeves about the original was the lack of a proper luggage handle passthrough solution. You had to make do with a highly insecure attachment with the first version. No longer with the second.
The iPad slot now fits a 12.9" iPad Pro, or a 10.5" iPad Pro with Leather Sleeve.
The laptop sleeve is way deeper. There's now a lot of clearance between the zippers and the top edge of the laptop – no need to worry about the zippers scratching the laptop.
There are magnets that secure the side pockets, making it _that _much more secure and usable. The V1 design had open pockets that allowed my smallest items to drop out.
The compartments in the front pocket have been upgraded with thicker, better quality material that holds your devices in place better.
The FlexFold dividers have been upgraded to the modern ones found in the Sling and the 13" EDM. One "column" of storage now can be divided into two "rows". Note that this prevents the bag from becoming as "flat" as the V1 EDM because of its rigidity.
The base of the bag is slightly deeper, allowing it to stand on its own more easily because of this too.
If you're thinking of upgrading from the version 1, you can consider the points above to decide if it's worth the upgrade for you.
Design
I can't think of another brand that puts in as much thoughtfulness into a messenger bag than Peak Design. Here are some of the design details that make it stand out from other bags for me in terms of convenience.
Anchor Link tether for easy access to keys – I use this everyday to unlock my doors, no more fishing around my bag for them.
The MagLatch closure mechanism allows me to close the bag in less than a second without fuss.
Top zipper easy access to main compartment – I use this to store and retrieve my passport or boarding pass at airports.
FlexFold dividers – while not perfect, are the best execution of customisable compartmentalisation I have experienced. They are rigid and super easy to customise. This is even when I compare it to the ThinkTank and Kata bags that I've had over the years.
Separated laptop and iPad sleeves – I don't have to worry about one scratching the other.
Many separate compartments in the front – Again, I don't have to worry about my items scratching each other.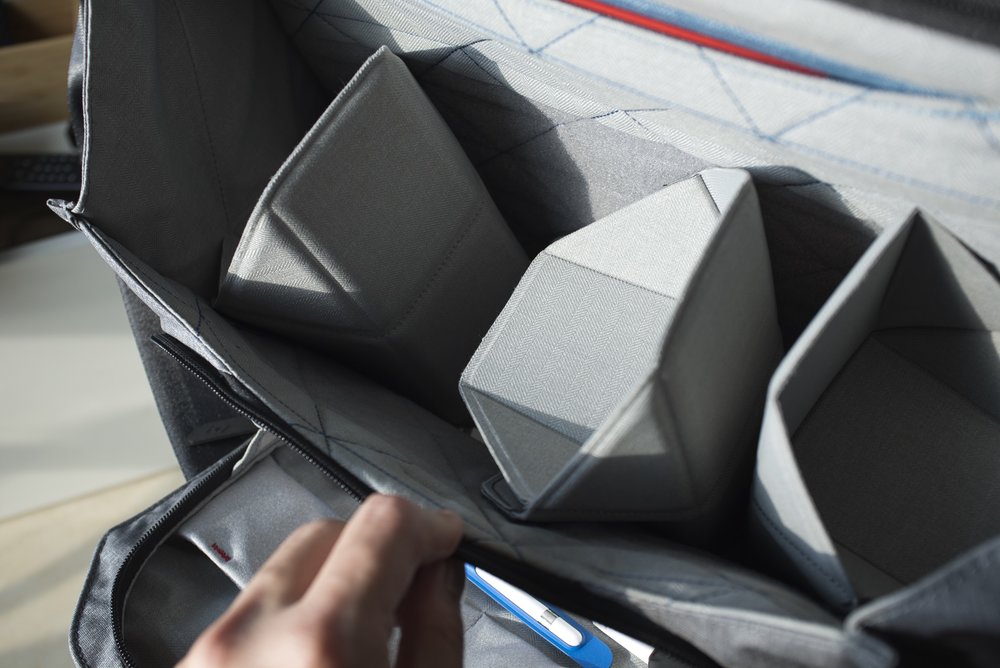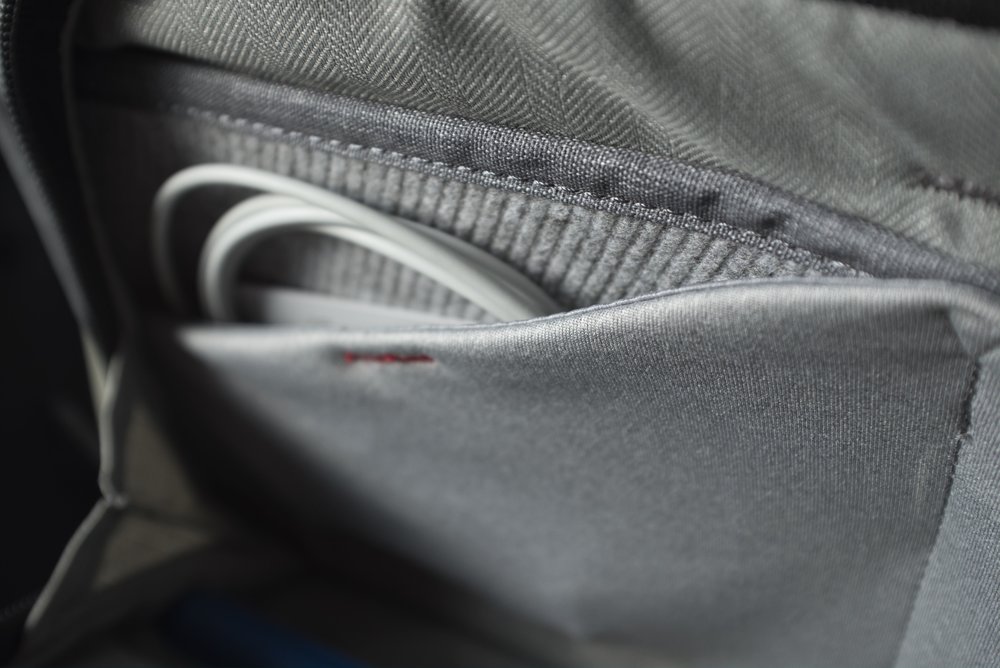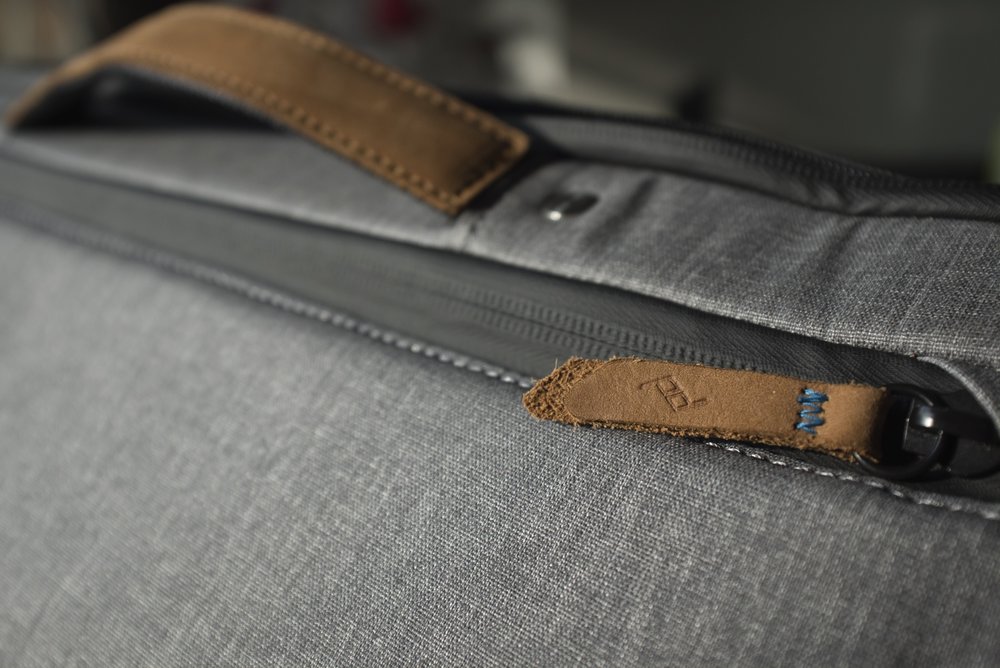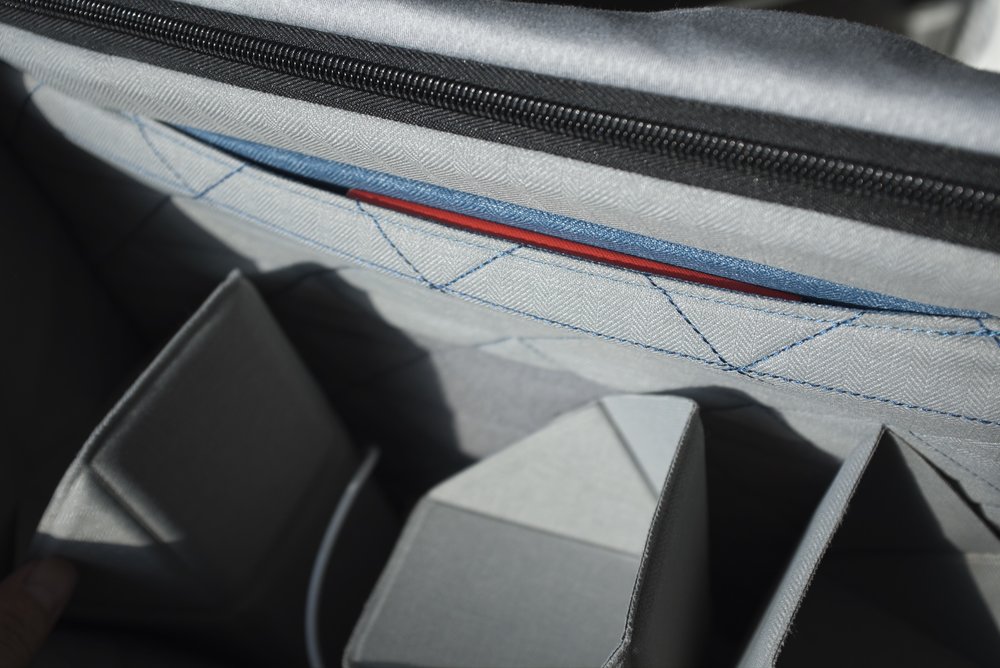 Build Quality
Build quality is also extremely durable and excellent. The choice of a durable canvas shell, with high quality nylon linings allows it to last a long time. I got the first version over two years ago and it still can pass off as a new bag despite heavy use.
Peak Design claims that the shell has an upgraded waterproofing treatment and while I haven't used it under the pouring rain, I notice that water droplets tend to stay as droplets on the surface instead of soaking the bag like on my V1 EDM.
The Ash colour option I chose for has leather accents on the zippers and handle, which will develop a classy patina over time.
There have been some reports of the hinges squeaking after a long period of use. I haven't encountered this on my V1 EDM, only on my Everyday Sling which doesn't bother me that much.
What can it fit?
I use this bag for two situations:
As an office messenger bag whenever I have to bring in my 15" MacBook Pro to work.
As a carry-on bag for travelling with light camera loads.
Office carry setup
15" MacBook Pro
10.5" iPad Pro with leather sleeve and Apple Pencil
Fujifilm X100F
There's a lot of empty space that I leave for ad-hoc items that I have to carry throughout the day, which is always nice so I don't have to get plastic bags.
Carry-on bag with light camera loads
Fujifilm X100F
Fujifilm X-E3 with Fujinon XF50-140mm F2.8 attached
Fujinon XF10-24mm F4
Fujinon 56mm F1.2
Sony WI-1000X Noise-Cancelling Headphones
15" MacBook Pro
10.5" iPad Pro with Keyboard Smart Cover
I prefer this setup when I fly to locations where I shoot mostly landscapes or cityscapes. The purpose of the bag is to contain all of the valuable items that I will not risk checking in.
The above setup is actually quite heavy to be carrying around all day, so the bag usually goes on top of a spinner cabin luggage. I would defer to my Everyday Backpack when carrying heavier loads, such as throwing in an XF100-400mm or a DJI Mavic Pro with spare batteries.
Conclusion
I'm really pleased with Version 2 of the Everyday Messenger. The first bag was already an almost perfect messenger bag and now most (if not all) of the teething issues have been fixed.
I highly recommend it if you're in the market for a messenger bag that can double as an office bag and as a camera bag, or have a V1 EDM and travel with it often.
You can use my link below to get 10% off (up to USS$15) Peak Design products, or use coupon code "nandakusumadi" at checkout.